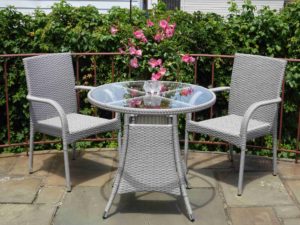 Wicker furniture made of artificial rattan is actual in any interior design, special comfort, as well as the highest performance. Garden furniture made of such material is able to turn any veranda into a relax zone in the hot summer months. What is artificial rattan?
At its core, this material is plastic, which both visually and tactilely imitates natural rattan. However, unlike natural artificial rattan does not lose its qualities in contact with the environment. Ultraviolet rays, a high level of humidity, temperature changes – all this is not fearful wicker plastic furniture made of artificial rattan, due to which it takes a strong position in the market of dacha furniture. This material is environmentally safe and not subject to decay processes.
Also its high popularity it is due to unique consumer properties. Created specifically for use in the open air, it does not require special care, only needing periodic wet rubbing. There are no special requirements for its storage, since the plastic is absolutely neutral to heat and cold. That's why everyone who values ​​practicality in things should buy wicker furniture from artificial rattan, especially since its price will always allow choosing an inexpensive option. It includes dining sets, plastic tables, plastic chairs and many more.