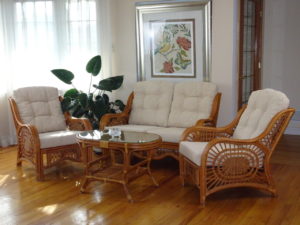 Technical progress has brought to our life, along with high technologies, a preference for speed and convenience, the desire for naturalness: the routes to protected corners where the human foot has not treaded have become popular, preference is given to natural products and natural materials. Thoughts about the ecology became natural in many spheres of human life. Not an exception and interior design.
A high place among ecological furniture is woven rattan furniture. Today, rattan is widely used not only in the country, but also in the city interior. From the ecological point of view this material is very convenient. From a flexible vine, you can perform any, even the most intricate and unimaginable thing, and all joints and joints remain primordial, as at the dawn of civilization, without glue, without nails. In addition, of all environmentally friendly materials, rattan is most unpretentious and adapted to different climatic conditions. Today, a wide range of furniture and interior items are made from rattan.
When creating a design for a living room, cottage area or a reception office, you need to provide a place where you can treat your guests with a cup of coffee. A wonderful solution – coffee table from rattan. Such sets will perfectly fit into any interior, adding to it sophistication. The top of the coffee table, made of glass, will ensure the durability and safety of the original appearance of the kit.
Armchair, side chair, living sets, made of natural materials, have become today not only the decoration of the house, but also a means of relaxation, so necessary for a modern person. Items of rattan furniture, despite their external fragility, are strong enough and able to withstand heavy weight. In addition, furniture made of rattan is resistant to high humidity, temperature extremes, which makes it possible to use them as furniture for living room, furniture for dining room, not only in apartments, but also in country dwellings, verandas, open courtyards. Evening in front of the fireplace in a cozy rattan couch, a day's rest in a soft armchair in the shade of a tree – what could be better?