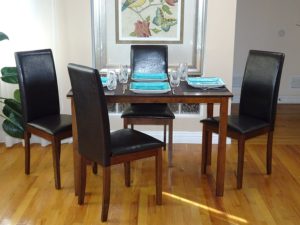 How to choose the right furniture sets, oval and round tables, chairs and bench for your dining area
Kitchen furniture in USA … Each of us at least once in our life felt a sense of joy when entering a new apartment or feelings of confusion and anxiety how to improve, update the old interior of home furniture. It's naturally to ask ourselves: what kind of kitchen and dining room furniture to buy? Where to buy online high-quality kitchen furniture? In addition, the situation is complicated by the fact that there are many furniture companies that offer their collections of indoor wooden and plastic furniture in US.
RattanUSA online store offers beautiful outdoor and indoor wicker dining sets, living room sets, wooden and plastic single furniture items, designer chairs, tables, cabinets, and a plenty of interior accessories suitable to any taste. We have options of how to get an excellent result at a very affordable price.
Having decided to purchase new kitchen furniture, first of all, the question arises – what amount of the family budget are you willing to spend in this case, and what kind of design you want to buy a kitchen set. If you visited more than one furniture store and you are not satisfied with the price-quality ratio of the goods offered by these furniture stores, then there is an opportunity to get qualified help from the furniture company RattanUSA. The main activity of the company is not aimed at the implementation of standard kitchen furniture in USA, but on the creation of projects and inimitable in detail kitchen furniture design not only to meet the client's requirements, but also for personal self-realization when choosing between kitchen sets, dining room sets, kitchen table, round table, square table, wooden table or wooden chair.
RattanUSA not only offers wide color range for your kitchen furniture, they will also take into account the peculiarities of the whole room and the details of everyday life. Definitely, you will be offered an optimal version of the kitchen set, which will perfectly fit into the space of your kitchen.